reviews are important to customers and our business we work hard to do a good job for our customers so when they offer to write about us and their experience with us it is gratifying. here is a review my customer just placed on houzz on line please visit there type in re design contractors  and see what she thought of our company!
read more
(prREACH) Redesign Contractors has been in the industry for over 3 decades providing custom home additions and renovations to clients in South Jersey and the surrounding areas. The company has earned a good reputation from its clients across the region for offering high quality services. Now, the company announces its release of new service. Redesign Contractors is proud to announce to its previous clients and new clients that they now use 3D imagining software or offering their services. This was made by the company to ensure that they can cope up with the increasing demand in custom home additions and renovations service. With the use of 3D imagining software, it's now easier for the company to concentrate on their specializations including project design and free consultations. The company's clients can easily acquire free consultations on custom addition and renovation projects they want in their home including kitchen, baths, exteriors, custom build house, finish work, and new additions. Redesign Contractors specializes in building new home additions and renovations. With the help of the 3D imagining software, it will be easier for the company to design custom home addition or renovation and ensure that the project will flow like it was a part of the home's original design. During the implementation of the project, the same staff handles the project until completion. This ensures that everything is well taken care of. Professionals that comprise Redesign Contractors are customer service oriented, detailed, and thorough and committed to layout the work that is exactly to be done. With all these qualifications and credentials, plus the use of new 3D imagining software, clients can expect to get only the best service. Carl M. Cox, the head of Redesign Contractors, was a former supervisor of construction department in a construction contracting firm between 1976 and 1981 until he founded Re-Design Contractors. The company has started as a one man operation, but slowly became the industry leader. With the strong reputation, experienced and skilled staff, as well as the release of the new product, customers can expect that they can acquire the best services they need. For further information about the company, please visit www.redesigncontractors.com. People interested in a free consultation, please call 856 229 1605. – See more at:...
read more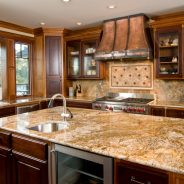 We love a good before-and-after home transformation, but remodeling projects aren't for the faint of heart. For inspiration, we found the best renovation blogs that let you indulge your demolition fantasies, without the hassles of unexpected delays and dwindling funds.
read more