With over 30 years in the business, we have earned the trust of hundreds of satisfied customers around the area. Let us show you why we are the region's leading builders and remodelers by giving us a call and scheduling a FREE estimate today!
Additions
Mother in law suites
2nd story
Garages
Dormers
Kitchen extensions
Handicap facilities
Structural renovations
Sun rooms
Green building
Kitchens
Renovations
Sun rooms
Porches
Siding
Roofing
Windows
Doors
Custom trim
Wood flooring
Decks
Specializing In.....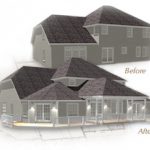 COMPUTER AIDED DESIGN SERVICES
Licensed Engineer's services
Project services from design
through completion
Plumbing & Electrical services
Wall & floor covering services
Complete building services
FREE CONSULTATIONS!

We are committed to being the best that we can be from our craftsmanship to the tools and trucks we use. Our trucks are fully stocked and ready to serve you now! With the right tools to do the job, saving our customers time and money.